TSDS Rollout Plan
Three Stages of Implementation for PEIMS and studentGPS®
TSDS PEIMS Rollout Plan  |  studentGPS® Dashboards Rollout Plan
With help from the Education Service Centers (ESCs), TEA has created a "multi-stage rollout plan" for implementing TSDS across Texas. This phased approach has allowed districts to implement TSDS in an orderly fashion without overtaxing the system or its support infrastructure.
Each local education agency (LEA--Texas school district or charter school) has been assigned to either Stage 1or Stage 2 of PEIMS implementation.  All Texas LEAs must be implemented on TSDS PEIMS by school year 2016-2017.
LEAs who have applied for studentGPS® were assigned to Stage 1 of dashboard implementation (completed) or are being assigned to Stage 2.  LEAs not ready to implement the dashboards during Stage 2 will be able to join later--interested LEAs should contact TSDSCustomerSupport@tea.texas.gov.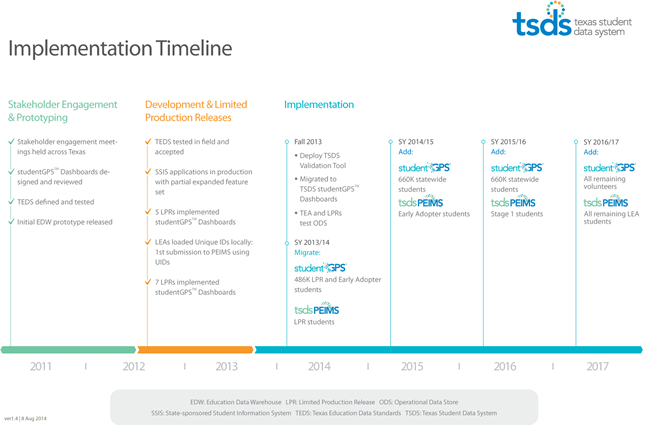 Check both the PEIMS Rollout Plan and the (optional) studentGPS® Dashboards Rollout Plan to see when your LEA is scheduled to implement each of the main components of TSDS.
Further Information