For PEIMS Administrators
What Is TSDS?
TSDS is Texas' new education data collection system. It replaces and expands on PEIMS EDIT+, and its goals are to improve and standardize TEA's data collection management process and equip educators with timely, actionable, and historical student data to drive classroom and student success.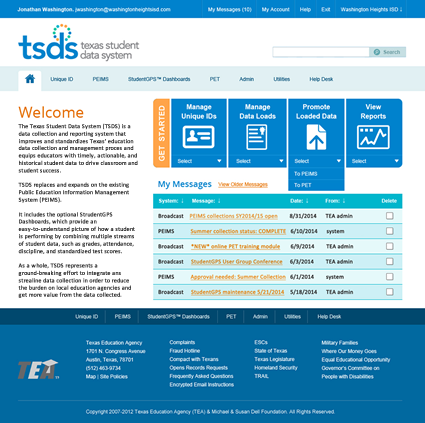 The screenshot shows the prototype TSDS system landing page.
What Does TSDS Mean for PEIMS Administrators?
PEIMS administrators may be responsible for a number of TSDS-related tasks:
(1) Unique ID
TSDS will use an identity management system called Unique ID, which will ensure that each student and staff has only one unique identification number. Local education agencies (LEA—Texas school districts and charter schools) will be responsible for loading assigned Unique IDs locally and for adding and maintaining records in the Unique ID application.
(2) Student Information Systems (SISs)
You will need to be able to use your SIS to produce extracts for load to TSDS.
(3) Texas Education Data Standards
LEAs will load data to TSDS using the new XML-based Texas Education Data Standards (TEDS) instead of the old 80-column format. Local systems (student information systems and human resources and financial systems) will need to produce TEDS-compliant extracts and save them to a local staging area. You may need to confirm that all your local systems and a staging area (a local directory where extracts are posted for pickup by the Operational Data Store) are ready for TSDS.
(4) TSDS PEIMS
TEA is rewriting PEIMS to include (A) the ability to compile partial data loads to create a submission, (B) a new client-side validation tool to identify errors earlier, and (C) the ability to load data for all submissions for that year from the first day of school.  Once your LEA implements TSDS PEIMS, you will need to learn the new TSDS PEIMS interface, learn about the new PEIMS submission windows, and download and use the validation tool.
(5) studentGPS® Dashboards
TSDS gives LEAs the option to leverage data that they may already collect to power a set of optional studentGPS® Dashboards that will provide timely, usable performance data to educators. 
The dashboards use most of the PEIMS TEDS interchanges, as well as five new interchanges to provide user-friendly reports for teachers and administrators. You may be responsible for loading dashboard data to TSDS. You may also be responsible for ensuring that your local systems can produce TEDS-compliant extracts for the full set of dashboard interchanges.
(6) Core Collections
The TSDS system was designed to be expandable so that other TEA data collections can be included to benefit from the shared data store and standardized processes and interfaces of TSDS.  These other data collections will be accessed through the Core Collections application, which already houses the Early Childhood Data System (ECDS). 
Timeline
Below are some critical milestones for TSDS PEIMS. You can also view a timeline of the TSDS implementation process.
All LEAs will need to implement Unique ID in the spring of 2013 to be able to submit their Fall 2013-14 PEIMS collection to the legacy EDIT+ PEIMS system.
Some "Limited Production Release" LEAs began using TSDS PEIMS in parallel with the legacy system during 2013. 
Starting in 2014-15, there will be a three-year incremental phase-in during which all remaining LEAs will begin using the TSDS system to perform PEIMS submissions and (if desired) the studentGPS® Dashboards.
Load Often
To help your campus or LEA get the most value from studentGPS® Dashboards, load campus and LEA data to TSDS often—weekly or even daily—so that educators always have access to the most recent data in their dashboards.
For More Information...
To learn more about the TSDS initiative: