For Parents
What Is TSDS?
The Texas Student Data System (TSDS) is Texas's new education data collection and reporting system. It replaces an aging and inefficient system with one that is easier to use, more expandable, and more useful to districts. TSDS's main goal is to save districts and charter schools time and money, while dramatically increasing the timeliness and value of the data it returns to teachers and administrators.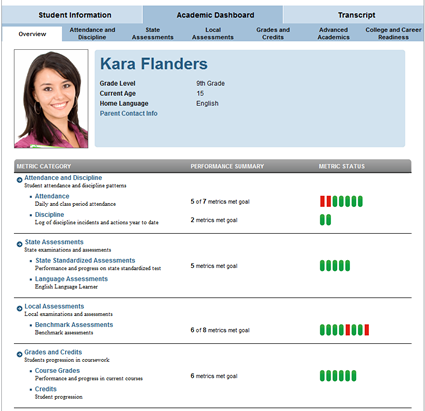 This screenshot shows an overview of a student's performance. Printable reports like this can be shared with parents to give them a clear picture of a student's progress.  
What Does It Do for You?
TSDS provides—at no cost to local education agencies (LEAs—Texas school districts and charter schools)—a set of personalized dashboards called the studentGPS® Dashboards for every educator in Texas*. These dashboards let education staff see whether students, classes, or campuses are performing at or below goals, allowing for early intervention to improve outcomes.
Your children's teachers will be able to use these dashboards to monitor their progress and to intervene if necessary to help your students stay on track, finish school, and prepare for college.
The dashboards comprise a series of printable reports that can be shared with parents at parent-teacher conferences to help them understand their student's progress and where they need extra support.  You can ask your child's teacher or school administrator whether your LEA is planning to participate in studentGPS® Dashboards.
In addition, LEAs are currently required by state law to submit large volumes of data to the state to monitor Texas's education progress.
TSDS streamlines this process and reduces your LEA's costs.
*NOTES: Districts and charters must elect to participate in the studentGPS® Dashboards. Participation is voluntary and free of charge.
Privacy
The safety and security of student and educator data is critical to TEA, so TSDS was designed with security in mind from the very beginning. Dashboard data—including all data pertaining to your child—is only available to teachers, principals, and other specifically authorized education staff.  Moreover, each authorized user can only see data that pertains to them: a teacher can only see data for the students he or she currently teaches, for example.
The studentGPS® Dashboards will not be accessible to TEA, researchers, or the public. 
Although the dashboards aren't available to parents, TEA does release to the public a set of education data that is carefully aggregated for complete anonymity. Visit TEA's TPEIR site to explore the wide range of education data available to you.
For More Information...
To learn more about the TSDS initiative: