For Principals and Superintendents
What Is TSDS?
TSDS is Texas' new education data collection system. It replaces and expands on PEIMS EDIT+, and its goals are to:
Modernize the 

PEIMS

data collection process to reduce technology risk and system downtime, allowing for more system availability and ease of use
Put 

real-time student performance data

in the hands of educators to improve student achievement
Become the 

one common data collection platform

for TEA to reduce the data collection burden on local education agencies (LEAs

—

Texas school districts and charter schools)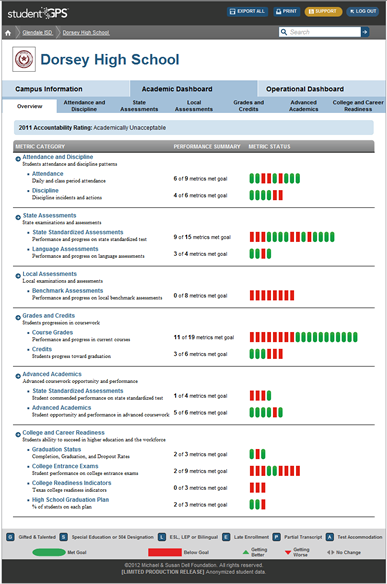 The screenshot shows a Principal's school overview from the studentGPS® Dashboards—click to view a larger image.
What Is Involved in TSDS?
To achieve these goals, TEA has focused its efforts on improving three key areas for LEAs:
(1) Improving PEIMS  
TEA is rewriting PEIMS to include (A) XML data loads via our new Texas Education Data Standards (TEDS), (B) the ability to compile partial data loads to create a submission, (C) a new client-side validation tool to identify errors earlier, (D) the ability to load data for all submissions from the first day of school, and (E) more system capacity to reduce downtime.
(2) Access to Data
Historically, TEA has provided reports to the LEAs too late for them to be useful for ongoing student monitoring and interventions. This meant that LEAs spent significant amounts of time and money on PEIMS, while seeing very little benefit to student performance.
In TSDS, TEA leverages data that LEAs collect for PEIMS, along with additional voluntary performance data, to power the optional studentGPS® Dashboards. The dashboards will provide key metrics and analysis quickly and on an ongoing basis to any LEAs that choose to participate.
These metrics will be available to authorized LEA staff via personalized dashboards. Teachers in their classrooms, principals in their offices, and superintendents at the LEA will have ongoing access to developing trends in the data for their students, schools, and LEAs. 
(3) Better, less expensive student information systems (SISs)
TEA had engaged two SIS vendors—Skyward and TCC—to significantly enhance their products' functionality. Although the contract period for this relationship has ended and the guaranteed not-to-exceed pricing has expired, both vendors' SISs remain available.  See the full list of SISs that are compatible with TSDS on the Compatible Software page.
How To Use TSDS
To get the most value from your studentGPS® Dashboards,
Load campus and LEA data to the state Education Data Warehouse (EDW) often—weekly or even daily. Data will flow from the warehouse to the dashboards, where you can review it.

Check your dashboards often

to spot any flagged issues or warning indicators and carry out appropriate interventions.
See TEA's Dashboard Policy Recommendations for more ideas.
For More Information...
To learn more about the TSDS initiative: