For Researchers and Community Members
What Is TSDS?
TSDS is Texas' new education data collection and reporting system. This collaborative initiative between TEA and educators replaces an aging and inefficient system with one that is easier to use, more expandable, and more useful to districts.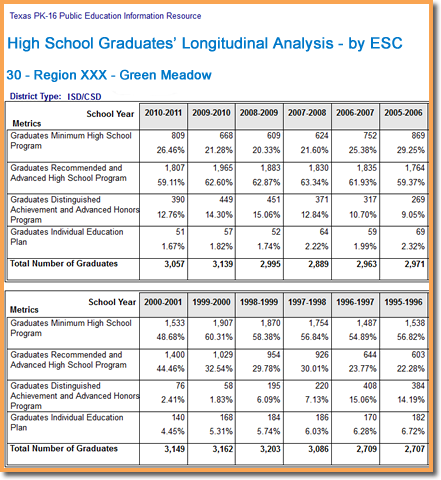 What Does It Do for Texas?
Local education agencies (LEAs—Texas school districts and charter schools) are currently required by state law to submit large volumes of data to track Texas's education outcomes. TSDS streamlines this process and reduces LEAs' costs with an improved data collection system.
In addition, TSDS provides—at no charge to districts—a set of studentGPS® Dashboards for every public school educator in Texas*. These personalized dashboards show whether each educator's students, class, and campus are performing at or below customizable goals. 
Finally, data from TSDS is available in aggregated, anonymous form to researchers and the public via the recently expanded Texas P-20 Public Education Information Resource (TPEIR—see the sample TPEIR report, right).
TPEIR Resources
TPEIR contains a wide range of data of interest to different audiences.  For example:
Parents/the general public:  graduation rates by LEA; high school-to-college reports showing where students from Texas high schools attend college in Texas; and higher education admissions, graduation, and enrollment. 
Researchers:  longitudinal student graduation, teacher employment and certification, and higher education enrollment and graduation counts. 
 *LEAs must elect to participate in the studentGPS® Dashboards. Participation is voluntary and free of charge. 
Privacy
TSDS contains sensitive data that TEA protects with a strong, modern security system. The data is only available to a student's teachers, principals, and other authorized education staff.
To protect student and staff privacy, the studentGPS® Dashboards will not be available to TEA, researchers, or the public.
The only publicly accessible TSDS data is the data at TPEIR, which is carefully aggregated and completely anonymous.
For More Information...
To learn more about the TSDS initiative: