For Teachers and Counselors
What Is TSDS?
TSDS is Texas' new education data collection and reporting system. Its goal is to improve and standardize TEA's data collection and data management process and equip educators with timely, actionable, and historical student data to drive classroom and student success.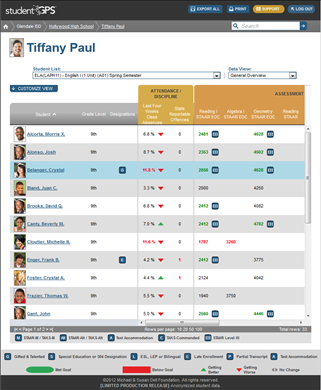 The screenshot shows a typical teacher's overview of one of her classes; click to view a larger image.
What Does It Do for You?
The studentGPS® Dashboards were created to combine vital information in one easy-to-use dashboard for the people who can make the most difference to students—their teachers and counselors. The dashboards help educators use information strategically, seeing patterns, gaps, and opportunities to make adjustments and improve student performance.  
studentGPS® Dashboards allow you to set goals with students, campuses and your LEA and track progress using easy-to-read snapshots and only a couple of clicks. The dashboards include printable and downloadable reports on student progress that you can share with parents or specialists to help them understand where a student needs help.
For teachers the dashboards include views of your classes' performance as a whole, as well as drill-downs into the progress of each student. They show whether a student or class is performing at or below goals for a range of key factors, including attendance, grades, discipline incidents, and standardized test scores.  Counselors have access to student records only for those students assigned to them.
How To Use the Dashboards
To get the most value from the dashboards, (1) Keep your online gradebook and attendance modules up to date and accurate.*
Then (2) check your studentGPS® Dashboards often to monitor student progress.
We have also provided guidance on how to use the dashboards to enhance teaching:
*NOTE: Your dashboards will be updated with your latest data whenever your LEA performs a load to studentGPS®.  You will receive the most benefit from your data if your LEA loads to studentGPS® weekly or (even better) daily. 
Getting Data to Those Who Need It
The goal of TSDS is to get the best information possible to the people who can make a difference.
Data can only be accessed by authorized education users—NOT by parents, students, or legislators. The core purpose of this data is to help you help students.
For More Information...
To learn more about the TSDS initiative: