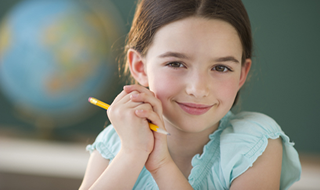 Next Steps with TSDS
An overview of project progress and next step for administrators.
Next Steps with TSDS
What Does TSDS Mean for LEAs and Vendors?

For local education agencies

(LEAs—Texas school districts and charter schools): TSDS will reduce the data collection burden while increasing the actionable data that is available to them. See "What Do I Need To Do Now?" below for more information on adopting TSDS. For more on the benefits of the new system, see For Principals and Superintendents.

For vendors:

Vendors will need to implement the new TEDS standards and collaborate with their client LEAs to determine which TSDS features and services they will use. For more information on what the new system will entail for vendors, see the Technical Resources section.

For LEAs who are adopting the dashboards or TSDS PEIMS

: The Deployment section explains what early adoption entails and includes a link to the application.
The TSDS System

 
Voluntary
Can TEA access?
Education Data Warehouse
EDW - A new complex of applications/data storage for collection and reporting on compliance and performance data    

N

No*

Operational Data Store
ODS - A new data store that allows LEAs to supply data for PEIMS and for the studentGPS® Dashboards

N

 No*

TSDS PEIMS
Replaces EDIT+, with more loading options and flexibility

N

No*

Dashboard Data Mart
DDM - Uses data from the ODS to feed the new studentGPS® Dashboards

Y

No*

studentGPS® Dashboards
Displays the calculations and metrics that are stored in the DDM so that educators and administrators can make informed classroom and policy decisions

Y

No*

* TEA will have limited technical system administration responsibilities, but no access to data without LEA authorization
Implementation Process 

TSDS has been implemented in stages to help TEA and the LEAs manage the changes.  
The first components were the Portal and Unique ID in 2012. The following year, we implemented the Operational Data Store to serve as an LEA-facing warehouse for reporting data.  In the same year, studentGPS was release to our early adopter LEAs.  
In 2014, we issued our first PEIMS releases to a small audience of Limited Production Release LEAs and early adopters, who helped test the new application; meanwhile, the Dashboards were made available to Stage 1 users as a full production system.  
In 2015, we Stage 1 adopters began using TSDS PEIMS as their system of record, and Stage 2 dashboard users began using studentGPS.  
The 2016-2017 school year is a watershed, as all 1,200 LEAs have begun using TSDS PEIMS, and the dashboards are available to all LEAs who are interested.  This completes the initial installation of TSDS, but the system will continue to grow as new applications are added to take advantage of the benefits of TSDS's shared data store.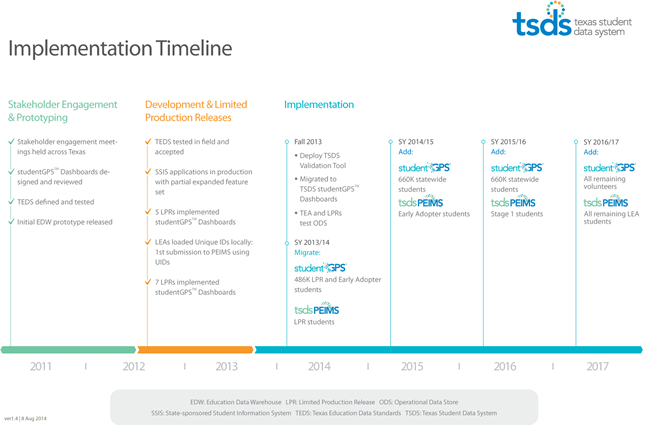 What Do I Need to Do Now?

Make sure all relevant staff at your organization have TEAL accounts.
Make sure you know who your ESC Champions are and how the TSDS support process will work.  
Make sure your staff have taken all necessary TSDS training from an ESC or the LEA.
Make sure your staff have taken any necessary training offered by the vendor.
If you plan to use the studentGPS® Dashboards, contact your vendor to determine whether they plan to support the dashboards.
Develop Dashboard Policies to help your staff get the most from your dashboards.
When it becomes available, download TEA's new Validation Tool (the successor to the legacy XML Checker).
Revise your LEA's internal data submission procedures for loading partial data for PEIMS collections.
Browse the TSDS Project Archives to learn more about this project.
If your LEA is adopting the dashboards or TSDS PEIMS, visit the Deployment section to learn about the adoption process.
We have compiled resources on assessments data for those LEAs that want to load their assessment to the dashboards.
Will Charters Use TSDS Too?

Yes. Charters will submit their data via TSDS just like all other LEAs.  If you are a new charter or have special concerns, contact your ESC as soon as possible.
What Will Happen to the Legacy PEIMS System?

EDIT+ – replaced by TSDS PEIMS
XML Checker – replaced by Validation Tool

TPEIR

– will perform the same functions as currently, with some small upgrades
Unique ID – will check all student and staff IDs associated with data loaded to the EDW
PET (Person Enrollment Tracker—formerly PID Enrollment Tracker) – will be available in the EDW for researching leavers, but PET will not update Unique ID data
The legacy system will continue to run in parallel until all LEAs are onboarded. Online support materials for the legacy system will continue to be available on the main TEA website. 
To learn more about the origins and development of TSDS, visit the Project History page.