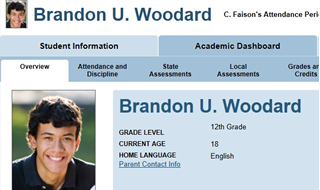 What are the studentGPS® Dashboards?
The Dashboards are a collection of information and metrics that provide educators with access to historical, timely, and predictive information on all students that can help improve education outcomes.
studentGPS® Dashboards
Mapping Success for the Whole Student
Building the Dashboards
The studentGPS® Dashboards are part of the larger Texas Student Data System (TSDS). The Dashboards incorporate data from LEA source systems, including student information, human resources and assessments, and combines the data to help identify trends in student, campus, and district performance.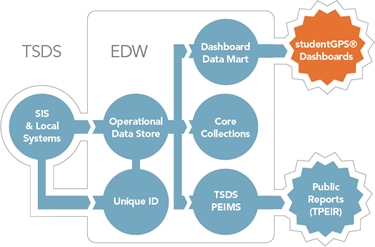 Benefits for Local Education Agencies
The Dashboards help to flag emerging issues such as problems in attendance, class work, and test performance as early as possible, so educators may intervene effectively to reverse the negative academic trends.
The Dashboards provide access to analyzed, actionable-data without requiring a teacher to download reports or make a data request.
Loading Dashboard data to TSDS is optional; however, the Dashboards provide a rich, sophisticated, empirical approach to teaching that help schools, classes, and individual students get more from their educational opportunities.
Dashboard Metrics
Our partner, the Michael and Susan Dell Foundation (MSDF), selected the metrics that form the basis of the studentGPS® Dashboards from extensive research into existing education data scholarship. The metrics were validated through pilots in Texas LEAs and in other states.
Expanded Dashboard metric documentation is now available in the studentGPS® Metric Guide. The Guide includes metric descriptions, calculations, and examples of how the metrics display on the Dashboards.
Exploring the Dashboards
TSDS studentGPS® Dashboards Demo Site
The best way to determine if the Dashboards are for you is to explore them yourself. TEA has a fully functioning demo site built on test data that will allow you to see the system in action.  Please contact TSDS Customer Support for login information. 
Demonstration Videos
The Dashboards contain a wealth of information and can be used to support educators at all levels. The videos below provide a few concrete examples of how teachers and administrators can use Dashboard data to help address common education challenges.
Dashboard Demonstration Videos - Links are to external sites
| | | |
| --- | --- | --- |
| |   | |
| Dashboards Overview | Student Study Team & Admission, Review, and Dismissal Meetings | Monitoring Attendance and Truancy |
| | | |
| Student Goal Setting | Intervention Identification and Monitoring | Parent-Teacher Conference Preparation |
| |   |   |
| Campus Improvement Planning |   |   |
Do you have additional ideas for using the Dashboards? Log in to the TSDS Portal and submit a TIMS Support ticket.
Get Started!
Ready to activate the Dashboards? Your ESC has a certified Dashboard Champion who can help you through the process. Contact your ESC for next steps.
Have additional questions? Visit the studentGPS® FAQs page or contact TEA at TSDSdeployment@tea.texas.gov.