User Involvement and Data Governance
User Involvement
Stakeholder involvement is central to TSDS, from the initial research and design phase (see our Project History page for details) to the project's implementation and ongoing maintenance and governance of the system.
There are a number of ways that users and stakeholders can become involved on TSDS, including providing feedback on the system and participating in the data governance process. (For more options for user or general stakeholder involvement in TSDS, visit the Get Involved! page for more information.)
The Data Governance Process
All data collected by TEA must be reviewed via the TSDS data governance process.  This process provides user oversight on how TEA collects legislatively mandated data from LEAs.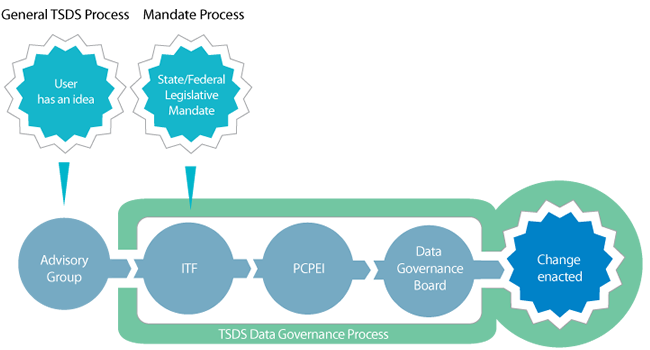 (ITF = Information Task Force, PCPEI = Policy Committee on Public Education Information)  
Advisory Committees
The first formal groups that are involved in the process are the Advisory Committees. Each ESC has appointed TSDS "Champions" who are responsible for support and communication about TSDS in one of three areas: TSDS PEIMS, TSDS Unique ID, and Technical.
Collectively across Texas, the ESC champions in each area make up the three Advisory Committees.
TEA will regularly meet with these Advisory Committees to alert them to upcoming changes to TSDS and to elicit feedback on the system.  Advisory Committee members should communicate any forthcoming changes out to the LEAs and solicit user feedback.  In addition, the Advisory Committees will provide ideas and guidance to the TSDS data governance participants. However, the governance of any state or federal mandated changes begins in the ITF governance committee.
The Review and Approval Process
The TSDS data governance process is the outcome of an external review of TEA's legacy data governance structure. One of the review's key recommendations was that internal and external groups be included in the process of setting data policy for TSDS. Consequently, the TSDS data governance process includes three main bodies:
TEA's Information Task Force(ITF)

—which is made up of ESC PEIMS Coordinators, school district PEIMS Coordinators, school district dashboard representatives, charter school PEIMS Coordinators, PEIMS software vendors, and TEA staff serving as information resources

—

makes recommendations to PCPEI regarding PEIMS and TSDS data.  Note that ITF members are appointed by the Policy Committee on Public Education Information (PCPEI). 
The external PCPEI

—which is made up of school district Superintendents or their designees, ESC Executive Directors, and TEA staff serving as information resources

—

reviews ITF's recommendations: PCPEI makes binding decisions about general TSDS data. They also make formal recommendations to the TEA Data Governance Board about PEIMS and other federal- or state-mandated data. Note that PCPEI is mandated by the Texas Legislature and appointed by the Commissioner of Education: 19 TAC §61.1025 (c).
TEA's Data Governance Board

—

which is made up of the directors of TEA divisions that use state and federally mandated data as well as legal and security representatives

—

approves the implementation of changes to mandated data.  The Data Governance Board also reviews all TSDS changes from PCPEI for informational purposes only.
Proposed changes can come from the state or federal legislature, the data governance group, TEA, or ordinary users. If you are a system user, you can request changes to TSDS through any of your representative bodies: the Advisory Committees, ITF, or PCPEI. Once an idea has been received, it can be channeled through the process shown above.  
Additional Resources