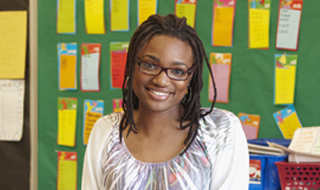 What Is the Education Data Warehouse?
The EDW fulfills PEIMS reporting requirements and meets the LEAs' need for timely, actionable data. It allows LEAs to load, validate, integrate, report, certify, and submit education data.
Education Data Warehouse (EDW)
How Will the EDW Benefit my Local Education Agency?
It will reduce PEIMS submission time by enabling local education agencies (LEAs—Texas school districts and charter schools) to load and validate their data on an ongoing basis.
It will dramatically improve LEA users' access to relevant, timely education data.
It will provide an integrated repository of PEIMS data and performance reporting via the Operational Data Store (ODS).
Components of the EDW
Unique ID - the TSDS module for managing identification numbers
Operational Data Store – the ODS, the system's data store, will include a wide range of educational data from the LEAs, spanning multiple years.
TSDS PEIMS – the replacement for EDIT+, TSDS PEIMS is a repository for PEIMS data and enables the selective loading, validation, and reporting required to finalize and submit a PEIMS collection.
Other data marts – TEA plans to continue its work consolidating its data collection systems well into the future. The goal is to reduce redundant collection and improve connections between databases for better reportability. As needed, other data marts may be created to accommodate other programs.
Core Collections - the application that houses all other TEA data collection in TSDS, such as the Early Childhood Data System (ECDS).
Texas Education Data Standards – TEDS provides specifications for loading LEA educational data into the EDW for reporting and analysis purposes. TEDS is based on the national Ed-Fi standards and is more expandable and widely compatible than the legacy PEIMS standards. 
What Does My LEA Need to Do?
Participate in TSDS Training
To learn more about the genesis of the EDW and to view archived documents, see the Project History page 
Do you have more questions? See our FAQs page.
Contact and Further Information
For support in using the EDW system or implementing TSDS-related changes, contact your LEA PEIMS coordinator or your ESC support staff.
 For training opportunities, visit the Training section of this website. 
If you have further questions, please visit our EDW FAQs page.
For general information about the EDW, contact TSDSdeployment@tea.texas.gov. 
    The EDW is the collection of data repositories that form a platform to enable the loading, validation, integration, reporting, certification, and submission functions.