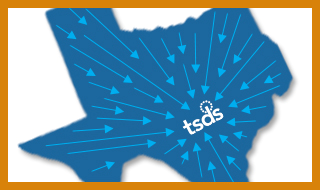 What is the history of this initiative?
This section describes the genesis of TSDS—the problems it seeks to solve, the research process, the many areas of LEA involvement in the process, and the plans for the future.
Project History
The Problem
Local education agencies (LEAs—Texas school districts and charter schools) have long identified core issues with the legacy system:
LEAs spend significant time providing data to TEA for PEIMS
Cost to LEAs is estimated to be $323M annually, statewide
Data that is shared back with LEA is not timely nor in a very useful format
Data rarely makes its way to the educators best positioned to improve student achievement  
TEA conducted an independent assessment to study the system in detail, and the resulting Texas Data Collection, Analysis, and Reporting System Investigation (TDCARSI) study made a number of recommendations:
Collect data at a granular, disaggregated level
Provide business intelligence and reporting tools for collected data
Implement a unique statewide identifier for students and staff
Provide an enhanced student information system using economies of scale to bring down the price
Assemble an enterprise data governance board 
Create statewide enterprise data standards 
TEA will meet some of these goals with the initial implementation of TSDS, while others will be addressed later.
LEA Involvement
Once the goals were defined, TEA began the research process. Although we and our partners consulted industry best practices and education research, our most important source of information is our end users.
Stakeholder Engagement Meetings
Project members traveled across the state to hold stakeholder engagement meetings with almost 3,000 teachers, administrators, PEIMS coordinators, and ESC staff to discuss priorities and initial ideas. TEA and MSDF published their findings from these meetings.
Site Visits
Both the studentGPS® Dashboard team and the SSIS team have spent hours at LEAs and campuses around the state—from El Paso to Houston and Amarillo to Edinburgh—discussing user needs and eliciting feedback on requirements and prototypes.
Advisory Groups
All of the major components of TSDS have associated advisory groups, such as the PEIMS advisory group or the Portal advisory group. These are volunteers from campuses, LEAs, and ESCs who participate in regular teleconferences to guide the development and prioritization of project requirements.
Limited Production Releases
TEA's partner, MSDF, has spearheaded prototypes of the studentGPS® Dashboards, which were released on a limited basis at 7 volunteer LEAs around Texas: Lubbock, Hays, Taylor, Allen, Pharr-San Juan-Alamo, Lewisville, and Alief. With each release, we gather feedback from the LEAs and use it to make the dashboards more accessible, intelligible, and useful.
Data Governance Process
TEA also coordinates a data governance process that encompasses three separate levels of review and approval before data collection changes can be implemented. The review levels consist of (1) the Information Task Force, (2) the Policy Committee on Public Education Information, and (3) the TEA internal Data Governance Board. The Advisory Committees may also be consulted in this process (the Advisory Committees are different from the volunteer-based Advisory Groups, above, who primarily provide information and feedback on requirements and design; the Advisory Committees are comprised of the appointed ESC Champions across the state and are focused on deployment and maintenance).
Financing
TSDS is a significant undertaking that has largely been funded by federal grants, state funds for PEIMS improvement, and by the generous support from MSDF.
The federal funds came from two Statewide Longitudinal Data Systems (SLDS) grants for gathering data at the individual student level from preschool to the workforce.
Both SLDS and MSDF have been essential to the realization of TSDS.
What Have We Accomplished?
We have:
Released the studentGPS® Dashboards (no longer supported -- 2020) to production
Completed the SSIS contracts; these products (from Skyward and TCC) are now available in the marketplace with expanded functionality but without the guaranteed prices that were available during the contract period.
Released the ODS/eDM to production
Released TSDS Unique ID into production
Released ECDS into production
Released TSDS PEIMS into production
TSDS has been operational for several years, and is continuously improving and expanding
For more details, visit our TSDS Timeline or the TSDS Project Archives to learn more about the project history.
Ongoing LEA Involvement
To find out how you can be a part of this historic effort, visit the Get Involved! page of this site.