Overview of ECDS Changes for 2016-2017
In response to a major legislative initiative aimed at extending and improving prekindergarten in Texas, TEA is making some significant changes to the Early Childhood Data System (ECDS). We're also taking the opportunity to update the ECDS screens and processes to be more consistent with global TSDS standards, providing a more uniform experience across TSDS. Some changes have been made, and others are going live in early spring 2017.  The cheat sheet below summarizes key changes.
Infographics ECDS Cheat Sheet 650
House Bill 4
In June 2015, the Texas Legislature passed House Bill (HB) 4 , which initiated the new High-Quality Prekindergarten Program (HQPK).  This program provides funding to encourage LEAs to offer public prekindergarten to qualifying students.
In addition, the legislation requires public prekindergarten programs to submit new data to ECDS; some new data elements are specific to HQPK participants, but all public LEAs will submit demographic, special programs, and prekindergarten curricula data. Visit Section 10 in TEDS to explore all the data elements required for ECDS when submitting kindergarten, public prekindergarten, and private prekindergarten data for the ECDS collection..
As before, private prekindergarten programs may submit demographic data on a voluntary basis. Those prekindergarten programs that choose to do so will have access to the Early Childhood Assessment with PK Sources  report (ECD0-000-003). This report shows how their students perform the following school year on kindergarten readiness assessments (for those students who attend a public kindergarten).   It can help prekindergarten programs assess their effectiveness at preparing students for kindergarten. 

TEDS Changes
The 2016-2017 TEDS  final and addendum versions include the new ECDS data elements and contain the new validations  that will support these new data elements.  LEAs should contact their student information, HR, and finance system vendors to ensure that their systems can produce TEDS-compliant extracts for the new data elements.
Shared PEIMS Data  
To reduce the burden on the LEAs, ECDS will start pulling some of its data from the PEIMS Summer collection. As LEAs load their PEIMS data into the TSDS Operational Data Store (ODS), the data stewards may prepare their LEA's ECDS data collection.
Demographics, special programs, PK funding, class size and ratio, staff, and class data are among the PEIMS data elements that ECDS will pull from the ODS when a user clicks PREPARE.
Regardless of an LEA's PEIMS data collection status, ECDS requires the superintendent to certify the data in order to complete the collection. Clicking COMPLETE in ECDS acknowledges that the data prepared for ECDS is complete and correct. 
New Collection Timeline
To accommodate year-round schools, TEA has moved the submission deadline to Aug 17, 2017.  ECDS will have a KG collection and a PK collection, all to be submitted at the same time, containing all required data for the year.
2016-2017 Submission Timelines
Kindergarten Submission
PEIMS and TSDS collections ready for users to load data into eDM     
1-Aug-2016
ECDS ready for users to promote data     
6-Feb-2017
ECDS Submission due for LEAs
17-Aug-2017
Prekindergarten Submission
PEIMS and TSDS collections ready for users to load data into eDM     
1-Aug-2016
ECDS ready for users to promote data
6-Mar-2017
ECDS submission due for LEAs
17-Aug-2017
ECDS Reports
In order to ensure data quality, LEAs have access to data submission reports from within the ECDS application.
 See the ECDS report listing below. For the 2016-2017 school year, these reports will include the LEA's collection status at the time the report was run. In addition, the report numbers have been updated to comply with the TSDS naming standard.
Report Numbers
Report Name
Updates to be Completed
Previously
2016-2017
 
 
ECD1-100-001
ECD0-000-001
TSDS Early Childhood Assessment Completion
Available now
ECD1-101-001
ECD0-000-002
TSDS Early Childhood Assessment Summary
Available now
ECD1-102-001
ECD0-000-003
TSDS Early Childhood Assessment with PK Sources
Available in early March; completed in April
ECD1-103-001
ECD0-000-004
TSDS Early Childhood Kindergarten Data Submission
Available now
ECD1-104-001
ECD0-000-005
TSDS Early Childhood Incomplete Assessment Data
Available now
ECD1-105-001
ECD0-000-006
TSDS Early Childhood Prekindergarten Data Submission
Available in early March
ECD1-106-001
ECD0-000-007
TSDS Early Childhood PK Completion
Available in early March
new
ECD0-000-009
TSDS Early Childhood PK Assessment Summary
Available in early March
New Validation Process
Expected to be released in April 2017. Now that the volume of ECDS data has increased and some of it is drawn from a shared source, it is important to provide robust validations on the data, and to give the users control and insight into the validations.  Based on the PEIMS model, ECDS will allow the user to select which subcategories to validate, and will offer different views of the results that will enable users to access their error messages in whatever way is most useful for them.
In Spring 2017, the ECDS application will provide data validations to ensure data quality and compliance. LEAs will be able to run validations against specific data subcategories or validate their entire submission at once (see below).  Through error reporting, the LEAs will be able to identify data issues with their ECDS collection.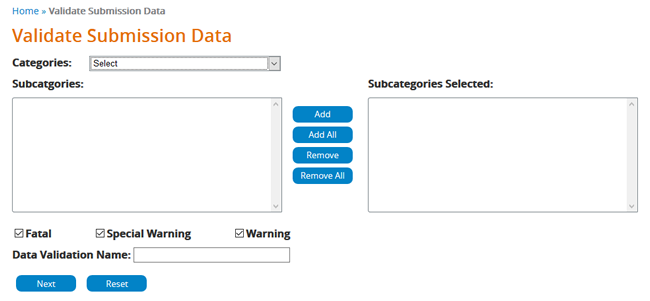 Updates to the Prepare/Finalize Screen
The Prepare/Finalize screen has been updated to accommodate assessment data and for consistency with TSDS standards. Changes include a new summary section at the top of the page and a separate table for Assessment data (see below).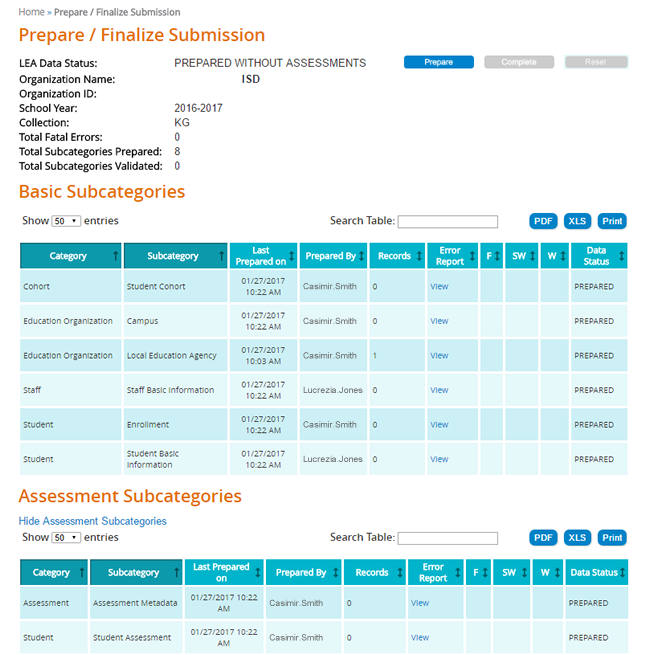 Updates to the Reports Screen
The View Reports screen is also being updated to accommodate the new reports formats that are being introduced for ECDS--not merely PDF, but also Excel and CSV formats (see below).  The screen handles all navigation to reports, meaning the user will no longer have to open a separate window to select and view their reports.