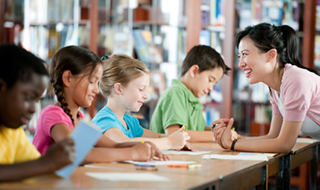 How Is Data Loaded to TSDS?
The Operational Data Store (ODS) is the central district-controlled data repository for TSDS. The eDM Data Loads tool and the Data Transfer Utility allow users to load local data to the ODS.
Data Loading & the Operational Data Store
How does the data loading process work?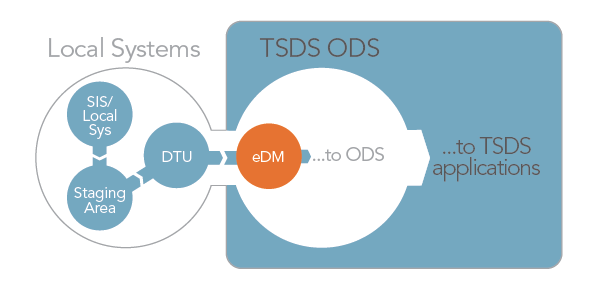 Using the eDM Data Loader
Users can perform one-time manual loads from anywhere in their local system using the eScholar Data Manager (eDM) data loader.  eDM picks up the specified file and validates it, and then the user directs the system to process the file into the ODS.
Using the Data Transfer Utility
Users can also schedule loads locally in the Data Transfer Utility (DTU--illustrated in the diagram above). The DTU can perform on demand (manual) loads as well as scheduled one-time or recurring loads from the local staging area. The DTU transfers the selected files, and if they pass validations, they are automatically processed into the ODS.
Whether files are loaded via the DTU or the eDM, the ODS can only accept data that is in Texas Education Data Standards (TEDS)-compliant XML format.  In addition, some errors will prevent a file from being loaded--to ensure that your file is loadable, run it through the downloadable TSDS Validation Tool to check for errors.
Once the data has been processed into the ODS, the user can promote it to the appropriate TSDS subsystem or data collection.
 What are the benefits of TSDS's loading process?
The DTU provides LEAs with schedulable, recurring automated loads and automated processing
The eDM provides the status of eDM and DTU loads, as well as error reports for all loads.
The eDM includes a series of validations that ensure cleaner data for the TSDS subsystems.
The ODS gives local education agencies (LEAs—Texas school districts and charter schools) access to a cloud-based no-cost warehouse for multiple years of education data.
The ODS provides no-cost mutual failover and disaster recovery services.
The ODS provides a single data repository that feeds TSDS PEIMS submission and the Enrollment Tracker (ET).
The ODS lets LEAs retain control of their own data—TEA and ESCs can only access LEA data 

with LEA permission

.
Data Loading/ODS Resources
 The ODS is the central repository that integrates data across multiple years from the LEAs' education data systems. From the ODS, the data flows to PEIMS.