Data Transfer Utility
For more detailed instructions on using the Data Transfer Utility, download the DTU User Guide.
What Is the DTU?
The Data Transfer Utility (DTU) is a Secure-FTP-based application that allows users to move zipped data files from their local system to TSDS.
All data that is sent to TSDS must be loaded to the Operational Data Store (ODS). From the ODS, the data is promoted to one of TSDS's data collections, like PEIMS, ECDS, or the Residential Facility Tracker.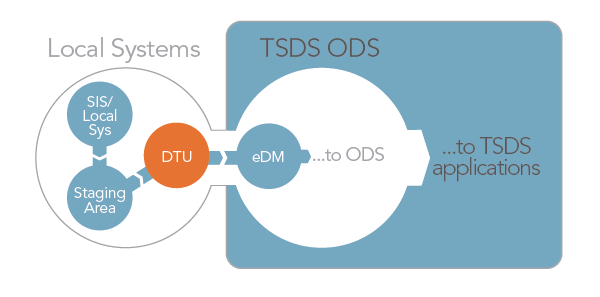 How Do I Install the DTU?
The DTU must be installed on the same server as the Local Staging Area (the directory where users place their data extracts for loading to the ODS).  The server must be running the Windows Platform operating system, and eScholar recommends that the folder name where the DTU is install should have no spaces or special characters.
In addition, the DTU installer will detect Java 1.6 and install it, if needed.
NOTE: There is a known issue with the DTU Installer with Windows Server Data Center addition, which requires that a registry setting must be manually added.
File Retention
On-demand files
The DTU archives files per collection by creating a zip file in the "TMP" folder under DTU installation directory.
In the configuration panel, if the "Remove archive files after the transfer" checkbox is checked, the DTU will delete zip files under the "TMP" folder after the transfer.
If it is not checked, the DTU will not delete the zip file.
The DTU does not delete the original files selected for an on-demand transfer.
Scheduled Transfers
For scheduled transfers, the DTU creates a zip file per collection under the scheduled task's folder. The DTU deletes the original files and creates an archive folder under the original source folder.
The DTU places the zip files it transfers into the archive folder. These zip files are not deleted by the DTU: the LEA can retain or delete these files as desired.
Recommended Retention for Scheduled Transfers 
eScholar recommends saving all files scheduled for load to TSDS for a minimum of 10 days in case of error.
Security
The DTU connects to TEA via Secure FTP using a service account managed by TEAL. There is one service account per LEA.
For More Information
See also: