Support
How does the training and support model work?
To provide assistance at every level, TSDS utilizes a network of "Stewards" at the LEA level who are supported by "Champions" at the ESC level. The full list of current ESC Champions is available on this site.
TEA trains and certifies ESC staff in critical areas to become TSDS Champions.  Those Champions in turn train the LEA Stewards, who provide training and first-level support to the end users. Visit the Champions and Stewards page for a list of LEA Steward responsibilities.
How Is TSDS Support Provided?
In order to manage the support for a system as large and diverse as TSDS, it is necessary to channel all support through an incident management system, which will route all incidents to the appropriate support staff, track their outcomes, and retain a history of the problems users are having.
All users access TSDS support via the TSDS Incident Management System, or TIMS, which is powered by the JIRA tracking system. Any user can create a TIMS incident from anywhere within TSDS, track their open incidents, and search the TSDS knowledge base for existing solutions to known problems.
To access TIMS, click the Help/Support link in the dark blue header at the top of all TSDS subsystems.
The link takes users to the main TSDS Support page. TSDS users can create and track their incidents from this page, while authorized support personnel can log in to TIMS.  For more information on how to use TIMS, download the TIMS User Guide.
What Is the TIMS Incident Process?
Once the end user has created an incident, it is sent to the appropriate LEA Steward. If the Steward cannot resolve the issue, it is escalated to an ESC Champion. If the Champion is not successful, the incident is escalated to TEA support. If TEA cannot resolve the problem, they will escalate it to the appropriate TSDS component owners, as illustrated in the diagram below, where the circles represent increasing intensity of support effort required.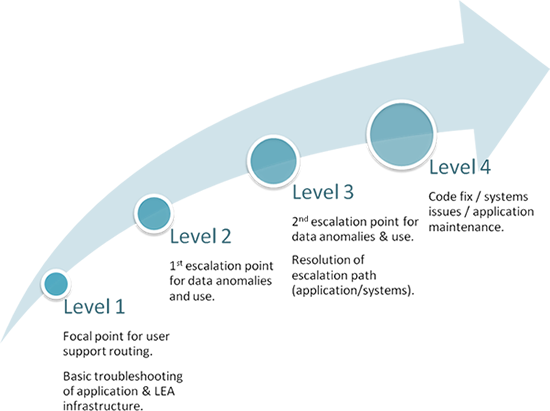 For more detail on the support process, explore the TIMS Support Flowchart.
What Is the ESC Support Cost Structure?
ESCs are independent bodies that set their own rates for support—contact your ESC or any of the 20 ESCs in Texas to learn more about their fee plans.
For More Information
See also: